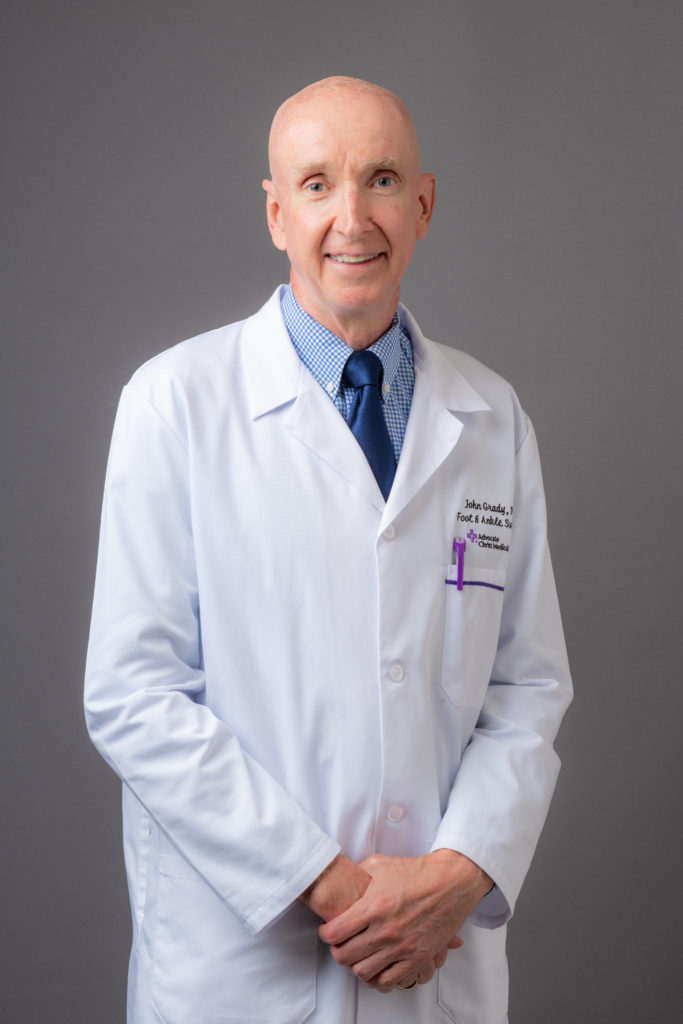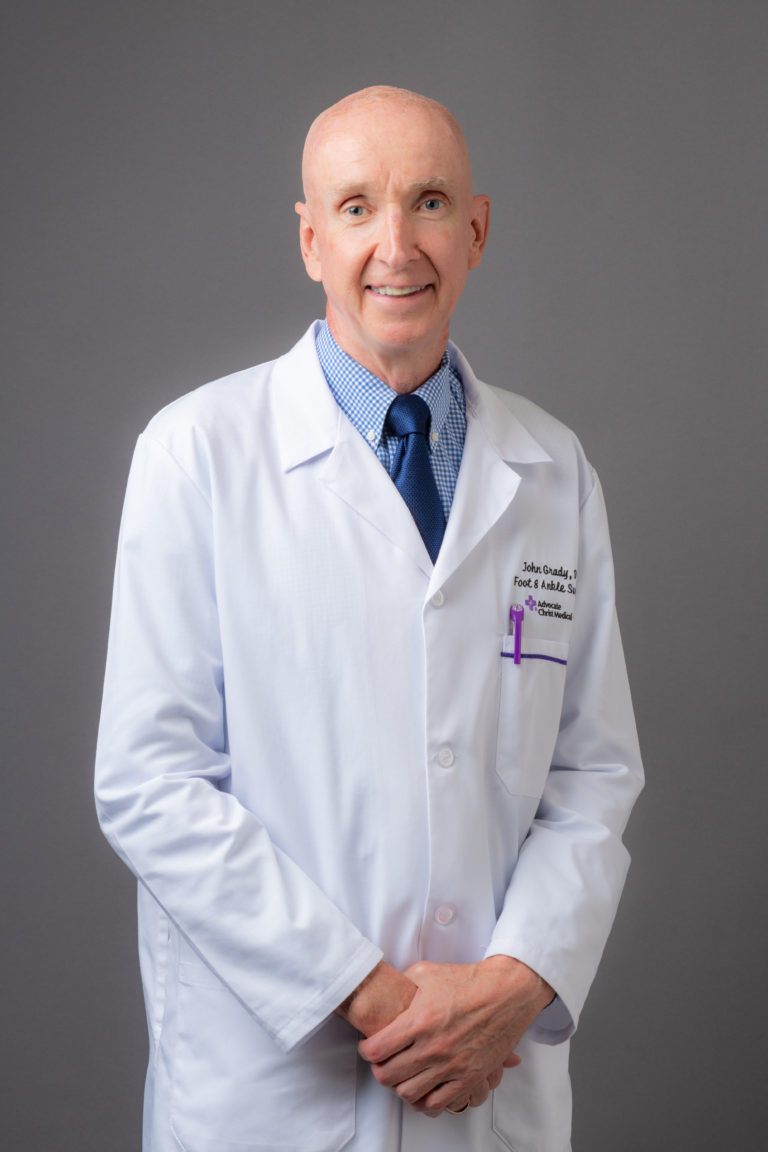 Podiatrist and Foot & Ankle Surgeon located in Oak Lawn, IL
Renowned foot and ankle surgeon John Grady, DPM, FASPS, FACFAOM, FACWM, brings his extensive experience and expertise to the community of Oak Lawn, Illinois, at Great Lakes Foot and Ankle Institute.
Dr. Grady graduated from Loyola University Chicago with a Bachelor of Science degree in biology. He received a Doctor of Podiatric Medicine degree from the Illinois College of Podiatric Medicine in Chicago (now the Dr. William M. Scholl College of Podiatric Medicine) and followed with a residency in foot and ankle surgery at Youngstown Osteopathic Hospital.
Dr. Grady is the current director of the prestigious podiatric surgical residency program at Advocate Christ Medical Center and Advocate Children's Hospital in Oak Lawn, Illinois. He previously served as director of the podiatric residency program at Jesse Brown VA in Chicago for 30 years.
He is on the surgical staff of Advocate Christ Hospital and Medical Center, Holy Cross Hospital, Ingalls Memorial Hospital, and Little Company of Mary Hospital. In addition, Dr. Grady is the founder of Foot and Ankle Associates and the Illinois Center for Foot and Ankle Surgery.
A nationally renowned foot and ankle surgeon, Dr. Grady has developed many types of reconstructive surgeries, such as complex diabetic Charcot reconstruction. He has advanced training in peripheral nerve decompression and repair. Dedicated to conducting research on the care of diabetic ulcerations, Dr. Grady has become one of only a small number of physicians in Illinois who is board certified in wound care.
As an expert in his field, Dr. Grady has presented numerous lectures at local, state, national, and international symposia. He has taught advanced surgical techniques of the foot and ankle to orthopedic surgeons all over North America, including such institutions as Harvard Medical School, as well as trauma and orthopedic surgeons in Europe.
Dr. Grady was one of the first instructors of advanced foot and ankle arthroscopy in the Midwest. He has also published numerous articles in medical journals and has served as an editorial consultant for two major medical publishing companies. He is a contributing editor to the Journal of American Podiatric Medical Association.
Dr. Grady is board certified by the American Board of Podiatric Surgery, the American Board of Podiatric Medicine, and the American Academy of Wound Management. He is a fellow of the American Society of Podiatric Surgeons. Dr. Grady is also a member of the American Podiatric Medical Association, the Illinois Podiatric Medical Association, and the Chicago Catholic Physicians Guild.
Dr. Grady and his wife, Kathleen, have lived in the southwest suburbs of Chicago for over 30 years and have four children. Dr. Grady is involved in a variety of community activities.
Undergraduate: Loyola University
Medical School: Illinois College of Podiatric Medicine in Chicago
Residency: Youngstown Osteopathic Hospital
Board Certified, American Board of Foot and Ankle Surgery
Board Certified, American Board of Podiatric Medicine
Board Certified, American Board of Wound Management
American Society of Podiatric Surgeons Fellow
American College of Foot and Ankle Orthopedics and Medicine Fellow
American College of Wound Management Member
American Podiatric Medical Association Member, Illinois Podiatric Medical Association