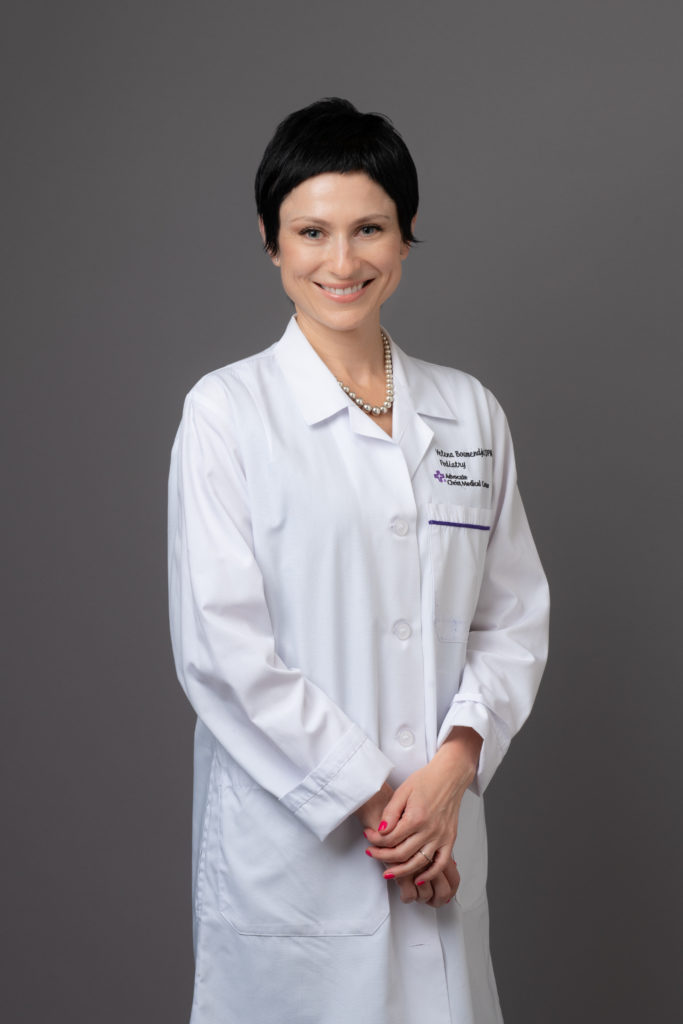 Podiatrist and Foot & Ankle Surgeon located in Oak Lawn, IL
Experienced foot and ankle surgeon Yelena Boumendjel, DPM, CWSP, provides expert care to patients in Oak Lawn, Illinois, at Great Lakes Foot and Ankle Institute.
Dr. Boumendjel obtained her bachelor's degree in Biology from Loyola University of Chicago. She entered William M. Scholl College of Podiatric Medicine at Rosalind Franklin University of Medicine and Science as a scholarship recipient.
While pursuing her Doctor of Podiatric Medicine degree, Dr. Boumendjel was actively involved in anatomy tutoring as well as many other extracurricular activities with the main focus on foot and ankle surgery and sports medicine, including Chicago Marathon medical volunteering events. She graduated second in her class and was a recipient of multiple honors and awards in recognition of outstanding performance in and mastery of the field of podiatric medicine as well as outstanding academic achievement throughout the entire podiatric medical curriculum.
Dr. Boumendjel completed her podiatric medicine and surgery residency training at the prestigious Jesse Brown VA Medical Center. Her training involved surgical and nonsurgical management of broad-spectrum foot and ankle conditions, including deformity correction, diabetic infections, and limb salvage with various reconstructive procedures and amputation prevention, wound care of various causes, foot and ankle injuries as well as management of pediatric foot and ankle conditions.
To further expand her training, Dr. Boumendjel went on to perform a fellowship in international foot and ankle surgery with leading foot and ankle surgeons of England and Germany. Throughout her residency, she continued to participate in scientific presentations and clinical research.
Dr. Boumendjel is a contributing author of the textbook "International Advances in Foot and Ankle Surgery" and currently has articles awaiting publications. She also served as a chief resident during her senior year of residency training. Dr. Boumendjel is actively involved in post-graduate education of podiatric surgical residents in clinical and surgical settings.
Dr. Boumendjel is dedicated to helping patients with a broad spectrum of foot and ankle pathology including sports injuries, dermatologic conditions of the foot and leg, diabetic foot evaluation and limb salvage, common podiatric deformity correction as well as wound care, and musculoskeletal foot and ankle problems associated with rheumatoid arthritis and other rheumatologic conditions.
Dr. Boumendjel lives in the Northwest suburbs of Chicago and enjoys an active lifestyle with her family and friends.
Undergraduate: Loyola University of Chicago
Medical School: Rosalind Franklin University of Medicine and Science
Residency: Jesse Brown VA Medical Center
Board Certified, American Board of Podiatric Medicine
Board Certified, American Board of Foot and Ankle Surgery
Board Certified, American Board of Wound Management
American Podiatric Medical Association Member, Illinois Podiatric Medical Association